10 Best Google AdSense Alternatives
Do you got Rejected or banned from Google Adsense ? Don't worry, In this article, I have covered some of the best Google Adsense Alternatives which you can use to make money even if google adsense disapproved or banned your adsense account
So, rise up, be proactive and act professional! There's no time to waste.
Every day, hundreds and thousands of AdSense accounts are banned from the system. The reason is often the most "unknown". Of course, the most frequent reason is that of "Click Fraud", or that of "Announcement placed strategically to make the user / ad click by mistake too close to the text, …". The truth is that you will never be told the exact reason why your site has been banned by AdSense (as well as, when you receive a penalty for "unnatural links", Google will never tell you what links it thinks unnatural ).
NOTE: if you get banned by AdSense, knowingly or unknowingly, you've violated one of the rules of the TOS (Term of Services) of Google adsense.
The reaction you get when you get your AdSense ban is to feel frustrated and think you've lost the only chance of Making money on the internet. In reality, the web is full of alternatives that you can try (yes, tests are essential to find the network that works best for you), there will be networks that will perform better, networks that will perform worse.
Probably, in many sectors, if you want to make money on a pay-per-click basis, unless you have a very large number of visits, you will not find any network that beats Google AdSense (pay per click). But do not forget that, in addition to Pay per click, there are online affiliations
Read Also: 2018 Tricks On How To Earn Huge Amount With Admob
In this article I will give an overview of some of the systems / alternatives that work better all over the world.
2018 Google AdSense alternatives
Below you will find a list of networks that you can try to get back to monetizing your website without using Google AdSense (by the way, you can earn online without google AdSense ), if you want to report other networks / systems you can leave your comment to this article.
ExoClick
It is generally recommended for sites that have adult / eros themes. For more information on Exoclick you can read the article " Earning with Exoclick ".
vibrant
I discovered Vibrant thanks to an email received on Monetizing directly from an account manager. It is a network that offers contextualised ads through hyperlinks within the contents of the website. Pay CPM / CPC with very high values, in my opinion really very interesting, too bad that, for the Italian market, not many campaigns are available (and therefore sometimes are not shown contextualized ads). It's still a great way to round up because we will not have to allocate banner space but we will only use the text of our articles.
LinkWeLove allows you to place a "Related Content" style widget that contains sponsored links. Pay 0.08 euro cents per click. CTR ranging from 2 to 5% depending on the type of integration you will do. It can be used together with AdSense and there are no particular decreases in clicks on AdSense, so the two systems can live together without cannibalizing each other. It 'a Pay Per Click system that allows you to generate interesting revenue if used properly.
Teads (ex eBuzzing)
It allows you to insert innovative advertising formats such as Interstitial or inRead (the video that appears halfway through the content and only activates if the user approaches that space with the mouse). In my opinion the performance of some of the formats offered by Teads is still too low compared to the "invasiveness" of some formats (such as the mobile footer, for example). Also interesting is the opportunity to participate, sporadically , in "article campaigns" that are paid between 40 and 60 euros.
Olihargon (Beta) / Ex Heyos
Olihargon (Beta) / Ex Heyos
Of Olihargon I spoke recently in an article about Monetizing for a short test I did. An interesting platform for the data it offers, but at the revenue level it's still too much, too much, too low.
Plavid
With its video seeding, blogger engagement and social share services you can publish campaign links on your social channels, publish videos on your site and earn money for each view, write sponsored posts and receive a fixed fee for your business.  Receive payment via PayPal / Bank Transfer. Threshold of 20 euros for individuals and 100 euros for companies.
The alternatives reported by American sites as the best available:
Not as good as AdSense. We are not as good as AdSense, but we are better than all the other alternatives. This is the first sentence that you read by visiting the RevenueHits site. The payout is 20 dollars and the forms of payment available are PayPal, Wire or Payoneer. I saw a couple of banners available and the campaigns are quite varied, I think that Revenue Hits is suitable for those sites that have traffic from US / UK or more generally in English.
Infolinks
It is a pay per click network that allows you to earn through contextualized adv and inserted directly on specific keywords (keywords) present on your website. Your pages are indexed and to the text on your pages are automatically inserted hiperlinks when there are keywords related to the advertisers. The payment is made through PayPal, Bank Transfer, Payoneer to reach the payout of $ 50. It is recommended for websites that work in English, Spanish, French and German.
adstract
It is a platform that allows you to earn money with videos (creating video and video reviews in which to insert advertising). Payout is $ 100, ideal for video makers.
Juice Adv
This is a Pay per click and Pay per impression system that only accepts sites that have at least 2000 visits per day. It is considered a valid alternative to AdSensefor medium to large sites that have been banned from AdSense or have too low a return with AdSense.
BuySellAds
Also used in Italy. If you want to enter the market of direct sales of advertising space within your website and you do not know how to find customers, BuySellAds can do for you (even this system works very well in the US / UK and is still little exploited, to my opinion, in Italy). BSA (BuySellAds) pays 75% of the revenue generated by each advertising space.
It is a performance based network. Simple to use, it allows you, like many other networks, to take your banners in different formats (including pop-ups) and place them on your website. It offers international customer service and payments are made upon reaching $ 20 via PayPal or Payoneer. For the bank transfer, on the other hand, the 500 dollars of commissions must be reached.
Very similar to AdSense (this also works very well in America, I've been testing it for a couple of days on Monetizing), allows you to customize ads and show only contextualized ads . You can even use it with Google AdSense (but in our case, probably, we have already received the ban from AdSense), pay through PayPal to reach $ 10 or by check to reach $ 50. To register, go to " Chitika Registration ".
Tribal Fusion
It is a large network that works exclusively CPM with sites that have large amounts of traffic (500,000 unique visits per month required). Excellent alternative to work with sites that can generate a lot of traffic (perhaps from social networks).
One of the largest pop-unders network in the world. Excellent CPMs offered, this network works very well with some specific niches, namely: video / film, games, dating, finance, software, entertainment, gambling. Some overseas say that Propeller Ads can generate more revenue than AdSense if used effectively. 30 day payments, great for those with low traffic from India, Singapore, Turkey, South Africa. Also have a minimum payout of 25 dollars per momth. Sign up as a Publisher with Propeller Ads here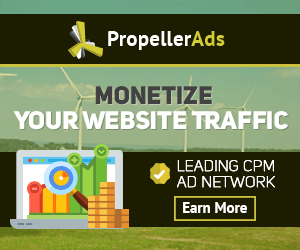 And you want to add some other networks? Leave your comment on Monetizing, or share this article on social networks!
DO YOU HAVE PASSION FOR BLOGGING ?  Then the first step to take  is to register a domain name for your blog
WHAT IS A DOMAIN NAME ? A domain name is the address where Internet users can access your website. It is used for finding and identifying computers on the Internet. Computers use IP addresses, which are a series of number like The domain name hides the IP address that most people aren't interested in seeing or using, like the 151.101.129.121 address used by trickvile.com..
In other words, it's much easier to type "trickvile.com" in your web browser than it is to remember and enter the IP address that the website uses. This is why domain names are so incredibly useful.
Examples of Internet Domain Names
Here are examples of what I meant by a "domain name:"
newbuster.com
trickvile.com
naijamill.com
In this post, I will give you guidelines on how to choose your domain name, get it at the cheapest rate and also register with a superb hosting company.
Tips to buy your domain name:
Keep it short: Always try as much possible to make your name short. Long names always skips the mind to remember so it is best to register a short name.
.com or .ng: If you creating a blog that will have global audience then you should go for a .com domain. But if your blog is going to have Nigerian audience then it is best to choose .ng or .com.ng.
Avoid Hyphens: Never think of registering a domain with hyphens or special characters because it might confuse your visitors who would possibly forget your name or mistype it in future and end up in another website.
Choose your Registrar wisely: You must pick your registrar with extra care. A bad registrar can give lots of stress. So you must take some time when choosing your registrar.
Now lets come back to this generally asked question "How can I register my domains"?
Where to register your domain name?
As we all know,there are good number of providers who provide domain registration services, but it does not really mean they are the same. Note, no two domain registrars are ever the same.
And choosing the right one can save you a lot of money and also give the benefits of free add-on services.
From my recent research I can recommend you to register your domain names with DomainKing.NG without a doubt.
Why Do I Suggest DomainKing.NG?
Domainking.ng is your best company that offers quality hosting services . Why? Here are the benefits:
Cheapest Domain pricing: Domainking.ng offers the cheapest pricing for all domain extensions. You can get .com for N2699, .com.ng for N999, .org for N4499 with them.
Free Emails & Privacy protection: Some of the domain provider charge extra for the add-on services like privacy protection, DNS panel, blogger setup, emails etc. But all these services are totally free with every domain you buy from DomainKing.
Affordable Web hosting: DomainKing offers the cheapest web hosting in Nigeria and what more you will need when you can get best prices for both domain names and web hosting from a single provider.
Easy Domain Management: Many Registrars don't offer full features in their panel for managing your domain. I know some registrars where you need to contact support just to get an EPP code. Imagine that! But DomainKing offers full control in their client panel.
24*7 hours Premium Support: Their support is among the fastest. You will get almost instant replies to all queries, it feels like they have dedicated support member for every client!
They have Instant live chat support available on their website with zero wait time while email and ticket support has the average response time of just 10 minutes.
If you are now convinced to register your domain with DomainKing.NG then read on to find out the steps to get started.
Steps to buy Domain Name on DomainKing.NG?
Step 1: In your web browser address bar Go to DomainKing.NG
& search for the domain name that you want to register in the search box on top of their home page.
Step 2: Once you have entered your domain name & clicked search, then you will redirected to the search results page.
If your desired domain name is available for registration then Congratulations message will be displayed on the screen.
Step 3: Now you need to select the number of year. If you want to register domain for 2 year then you need to select 2 year from drop down menu..
After selecting the billing cycle you need to click on Click to Continue >>
button as shown in below screenshot.
Step 4: In Domain Configuration page you need to select various free Add-On Services and enter the name-servers of your hosting account. After entering the required details you need to click on Continue to Final Checkout Page >> button.
Note: If currently you don't have or know the name-servers then you can leave the entered default name-servers in it.
Step 6: After reviewing your order you need to scroll down to Your Details section where you need to register your account. You can select New Customer if you have not registered your email yet.
If you are already customer of DomainKing.NG then you need to select Existing Customer
Step 7: Now you need to scroll down to the bottom of the page to select your preferred payment method.
You can pay using your Naira Card, Verve Card, VISA card and Master card. If you are not using your card then you can also pay them via Bank Transfer or Bank Deposit
Step 8: After selecting your preferred payment method you need to select terms of services and click on Complete Order button.
Congratulatio! Your domain is now registered. You can check your registered email for the confirmation.
I hope you like my step by step tutorial on registering domain with DomainKing.NG. If you have any queries or doubts then you can ask via comment section below.
Hi Trick Vilers 

We all have been working hard creating Android Apps so as to make money online using Google Admob and at the end we earn 0.50 -1$ a day while other network pays upto 10-20$
I have been suffering too, so i found this new trick and it works like charm 

              I believe some of us may know this trick
FOR THIS TUTORIAL, I AM USING INTERSTITIAL ADMOB ADS
Before  I proceed I will like you to take a glance on my progress
22nd April 2018
I earned 4.58$ with 6,476 Impressions and a very Low RPM of $0.71
23rd April 2018
I earned $15.77 with 5,909 

 Impressions and having very High RPM of $2.67
Let me show you how I did it
Let's Begin
1: Click on the monetize option on the top bar
2: Click on your app available at the Left side of the bar
3: Click on 1 ad source next to your enabled Ad
 4. Click on Admob
If you have any issues or don't understand the steps ,comment below & i will make sure I attend to you 
I HOPE THIS HELPS 

Remita is an online payment and collections solution on a single multi-bank platform. It is a payment gateway adopted by the Federal Government for its Treasury Single Account (TSA) policy.
Remita which has significantly assisted in revolutionising the e-payment industry in Nigeria was adopted by the Central Bank of Nigeria for the payment and collections of funds on behalf of the Federal Government of Nigeria.
It is a multi-channel funds collection platform that supports all types of Biller organisations.
With Remita, organisations (SMEs, Corporate organisations, Multinationals, State Governments, Government Agencies, NGOs, Religious Organisations, Resident Associations, Schools & Educational Institutions, Hospitals & Health Institutions, Utility Companies, etc.) and individuals can receive and make payments easily.
To avoid strenuous processes, one can pay for licenses renewals, school fees, PHCN/NEPA bills, FIRS Taxes, Corporate Affairs Commission, NYSC fees etc with Remita easily.
Trick Vile brings you quick facts you need to know about the electronic payment gateway which has gained global recognition in the financial technology industry.
1. It is an indigenous software developed by a Nigerian FinTech company – SystemSpecs founded by John Obaro.
2. It is the payment gateway for Federal Government funds generated from levies, taxes and tariffs.
3. It is NOT the Treasury Single Account (TSA) which is the depository for all the funds generated by MDAs as taxes, levies, tariffs, etc. But a payment gateway that facilitates the remittance of these funds into the TSA.
4. There is a one percent transaction fee charged on all transactions through FG's TSA which is shared among Remita, banks, the Central Bank of Nigeria (CBN) and other payment operators involved.
5. Remita is government approved since it is used by the Federal Government, corporates and high-net-worth individuals to process financial transactions.
6. It is a secure platform with advanced security features such as a combination of hard token, soft token, biometric token and proprietary authentication protocols.
7. It helps you receive and make payments easily with ZERO activation fee.
8. With Remita, you can pay your taxes, levies and tariffs directly to the government without fear of missing deadlines which often attract surcharges.
9. Customers can pay you through a wide range of channels like your website, Internet Banking, Mobile Wallet, POS, or from ANY bank branch in Nigeria.
10. It also has HR and payroll functions which help businesses maintain a comprehensive, online employee personnel and payroll data.
Why should you use Remita?
1. It is beyond Online Banking.
2. It enables you to sign into a SINGLE platform for access to all your bank accounts at once.
3. You can view balances of all your multiple bank accounts on a SINGLE screen.
4. You have no need for multiple tokens.
5. You can make payments from multiple accounts, and across multiple banks, in the same transaction.
6. You can make payments to any Commercial Bank, Microfinance Bank and Digital Wallets.
7. You can define online payment review and approval workflow to suit.
8. You can toggle between the profiles of all your companies, subsidiaries, associations, your personal accounts etc. on the platform.
9. It gives you detailed and comprehensive transactions reports.
10. It has a Role-Based system access and Amount-Based Security.
How to use Remita to make an online payment
1. Visit their website and click on "Pay A Federal Government Agency" button.
2. Beneficiary's Name: Type in the [Name of the MDA] in the first space that has been provided. i.e, the name of the institution you are paying the money to.
3. Name Of Service/Purpose: Here, you select the name of service or state the purpose of payment in the drop-down list provided.
4. Description: Here, you describe what you are paying for. This you should by typing. e.g, I want to pay for FIRS annual TAX FEES.
Amount To Pay(₦): Type in the amount that you want to pay;
6. Payer's Full Name: Type in your full name;
7. Payer's Email: Type in your email address;
8. Payer's Phone: Type in your phone number;
9. Complete the Security Captcha: You are to enter the key characters you see in the image into the box;
10. Click "Proceed to Payment".
Generating a Remita Retrieval Reference (RRR)

When you are done making your payment, you will be redirected to RRR Invoice Page to generate your RRR.
Here, you will see your RRR Code which is a unique code that has been given to you based on the completion of the above steps. It is given to you for the transaction. The RRR Invoice page is where you see many options to make the payments.
Payment Methods
1. Internet Banking: With this, you can make payments via the internet banking system. All you need to do is transfer the said funds directly from your account to the beneficiary account via the Remita powered transfer. On the "Pay with Internet banking" column, icons of banks that support internet banking on Remita platform are shown. Just click on your bank's name and proceed to payment.
2. Cards or Wallets: With this option, you can make payments with your ATM Cards online. Just click on your preferred card e.g. MasterCard, Visa, Verve. You can also pay via e-Wallet services such as PocketMoni.
3. Bank Branch: To pay at any bank's branch, all you simply need to do is to print the transaction receipt or copy the RRR code. Take it to your bank and pay the required amount.
Google Auto ads is a new optional update released by By Google Adsense  which are utilizing artificial intelligence to automatically manage ad placements and ad optimization for the publishers. The AdSense team launched the Google Auto ads on  February 21, 2018 .
Important things to know about AdSense Auto ads
Place one piece of code just once to all of your pages and let Google take care of the rest. Google is taking on task of selecting the placement that is doing all of the work for publishers in terms of figuring out how many ads to put on specific pages, where to put them, as well as what kind of ads will run.
Publishers will not need to remove their existing, manually-placed ads to use it; Auto ads won't interfere with those, Google says.
Using machine learning to figure out where an ad will go, and also to ingest analytics for how well that ad performs to "teach" the system how to place ads better in the future.
How to Enable Google AdSense Auto ads
Login to your Google AdSense account
Go to my Ads > Auto Ads
Click on 'Setup Auto Ads'
Configure your Global settings
'Enabling' automatically get new formats at the bottom.
Click on Save.
Now place the ad codes  between the < head > and </ head > tags of each page where you want to show Auto ads.
That's it, Auto ads will start to appear on your pages in about 10-20 minutes.
Some Unclear Facts About The Google Adsense Auto Ads
It is unclear how publishers can keep track of where ads are being placed and how they are performing.
 The update does not address whether the Auto feature limits ad placements to protect publishers' traffic from search. Google's search algorithm considers ad overload a negative when ranking websites in its results, and Google's search team does not work directly with the AdSense team.
This tutorial guide is for those keystone bank users looking for how to check account balance on keystone bank or searching for keystone bank airtime recharge code , worry no more because we got you covered. Read carefully below on how to use it.
What You Can Do With  Keystone Bank Transfer Code
The Keystone mobile transfer code allows you to perform the following functions effortlessly at anywhere and anytime ;
Account balance enquiry.
Airtime recharge (Airtel, Glo, MTN, Etisalat etc.).
Funds transfer to Keystone Bank account holders (intrabank) and to other Bank account holders (interbank).
Utility Bill payments (DSTV, Startimes TV, etc.).
Merchant payments (PHCN, Internet services, Arik, Aero & Dana airlines ticket booking, etc.).
How to transfer with Keystone Bank Mobile Transfer Code
To use the Keystone bank mobile banking, you need to register first from a registered number associated with your bank account.
Dial *322*082# from on your mobile phone. Follow the on-screen command, Get your PIN and start using Keystone bank mobile USSD banking.
Alternatively, if the USSD code does not work for you, you will need to use the mobile banking app which works on all phones – Android, Windows, IOS and Java phones. The Keystone mobile transfer app to transfer money to other banks can be downloaded on Google Play store here.
You can also use the Keystone Bank transfer code to transfer funds to non-Keystone account holders. Simply dial *322*082# on your mobile device, follow the prompt and select the recipient bank as requested.
Airtime Recharge Code
With this Keystone mobile transfer code, customers can be assured that the days of running around to get airtime voucher are no more . Just by simply dialing *322# airtime can be topped within seconds at no extra charge.
If you experience any challenge while using the keystone bank mobile transfer code,please kindly visit any keystone bank branch close to you. Alternatively, you can call the Contact Centre on 01 448 5742, 070 8060 5000 or send an email to contactcentre@keystonebankng.com
If you are an Android smartphone user then you must be visiting Google Play Store now and then to download apps. It is one of the safest places where you get apps from different categories.
Though Google Play Store contains millions of free apps but there are also many apps for which you have to pay. The best example of such apps are the gaming apps for which you must pay for, if you wish to unlock all the stages. Likewise, there are many essential apps that may have limited features in the free version and you need to pay to avail all the features.
Wouldn't it be cool if somehow you can get these paid apps without spending a single penny? Want to know how? Just continue with the article and get all the paid Android apps for free.
How to Get Paid Android Apps for Free?
As you all know that for purchasing an app on Play Store you need to have enough Google Play balance in your account. But for adding balance in Google Play account you have to either use your credit/debit or any other payment option.
However, in this article we are going to tell you about Google Opinion Rewards, an app developed by Google that will help you in earning free Google Play credits, just by answering some simple surveys. Once earned, you can use these credits to get any paid Android app for free on Play Store.
Search for Google Opinion Rewards app in Play Store. Once located, tap on Install button to install the app.
After the installation of the app, it will provide a brief description regarding the app. You can also skip this description.
Now choose an email account to sign in to the app and tap on OK.
On the next screen provide your complete name along with your Zip/Postal Code and tap on CONTINUE. Now in the next screen provide the detailed information like your Street address, Flat number, city name and tap on CONTINUE.
In the Google Opinion Rewards consent page tap on "I understand, please continue" and then tap on NEXT button. Now it will seek some personal information like gender, age, postal code, your preferred language for the surveys and your average annual household income. Try to provide the correct information as it will decide the type of surveys you will receive in future.
After providing all the information correctly you will receive a confirmation screen that your account is all set to receive surveys and earn free credits. Tap anywhere on the screen to dismiss the screen.
The app will now instantly provide you a survey. Please note that the survey is just an example of the type of surveys you will get in future (no credits will be provided for this survey). Click on ANSWER SURVEY to answer this survey. Also, be quite careful and honest while answering this survey as it may increase or decrease your future chances.
Now, after verifying your account Google will send you the surveys depending on the type of information you have provided.
Once the survey will arrive it will show in the notification center.
Tap on it. It will open the survey. (It is just an example of the survey. The survey which you receive will be different from that.)
Once you complete the survey a screen will prompt letting you know the credits you have earned for that survey.
You can also check for the total rewards earned in the Reward History.
So, guys, if you too wish to get all the paid Android apps for free from Play Store then install Google Opinion Rewards and start earning free Google Play credits.
Smartphones are important for both professionals and individuals. We use them to do many things like to text our friends, to take picture & selfies, to create videos, to jot down notes and what not. Hence, we should take care of this amazing device to make it lasts long.
For this purpose and to boost our Android's performance we follow certain tips recommended by others without even thinking if they are helping or are damaging the phone.
Of course, no one is skilled to know it but theirs is no harm if we keep our eyes open.
In this article, we will make your aware about 19 things that you might be doing wrong unknowingly.
1. Manually Killing Apps or using Task Killer:
Most of us even after using Android for long aren't aware of the fact that using task killer application or manually cleaning running apps harm performance of our Android.  When we open the application part of the data is stored in RAM. Meaning when you open the same application later it will be loaded faster because the data is cached.
If we remove app the same process has start again meaning we are indirectly decreasing the phone's performance. Plus, as technology advances Android has become smarter, it automatically feeds RAM by killing less priority apps, when required. As an idle sitting RAM is wastage of resources. Not only this it even kills non- responding apps and the ones consuming battery (like music and video apps).
Therefore, the user doesn't need to kill apps manually or via a third-party app. Certain apps need to run in the background to work efficiently and if we kill them we would interfere with their working.
2. Ignoring phone overheating:
While playing does your phone get heated? If yes you need to give it a break and let it cool. If someone says your its normal then don't go by that.
Phone's battery life decreases if it gets heated therefore you need to cool it off. To do so, slip off the cover (if you have it on and let it get some airflow). Plus, avoid sitting in direct sunlight when using phone as this also heats up the device.
Don't test your phone, as you can't work in pressure same way your phone can't perform efficiently when heated. But to cool it down don't put it in freezer.
3. Not taking data backup:
Nowadays, smartphones have replaced almost everything. We use it to take photos, notes, scheduling, saving our important data. As we can carry it anywhere and it is an all in one device. But doing so we forget if the phone will crash what will happen. Therefore, we should not overlook the necessity of taking backup. One should take backup of their important data in timely manner. For this purpose, they use backup applications like Right Backup Anywhere, to install it click here.
4. Keeping phone screen unlocked:
It may be irritating to unlock the phone each time you want to make a call or want to perform any job. But this doesn't mean you can leave it open, treat your phone like your bank account and never make the mistake of leaving it unlocked.
As an unlocked smartphone is a treat for prying eyes and for those who want to take undue advantage of your data. Lock your phone with a password, pattern, voice, fingerprint and even with your Face.
5. Not keeping phones software up to date:
Prepare your phone to fight against threats, update it periodically or when an update is released. Avoiding or missing an update may make you a victim of cyber security attack. Don't avoid it due to the misunderstanding that update occupies space. Updating your phone is a must as it protects your phone from being attacks and lets it perform better and efficiently.
6. Draining Battery:
Don't wait for your phone battery to drain completely, charge it periodically to make your battery storage capacity run at its best.
7. Installing more than one security application:
If you feel installing a security application on Android device is useless then you are wrong. To keep your device protected from threats you need to run an antivirus application. However, this doesn't mean you install multiple application. If you do so your phone will not be able to use even one properly and these applications will take up resources like RAM and memory.
Therefore, you should run only one which performs all the basic and advanced task.  For your convenience, we can suggest you one such tool. It is names Systweak Anti-Malware, you can download it by clicking here.
8. Improper Phone Charging:
This one is complicated and it is not your fault. How can you know which is the better way? For you, all that matters is the 'charging' symbol on your battery icon. But You're Wrong! To get more battery juice always charge your phone with the actual charger rather than charging it using the USB port in your computer.
9. Installing Apps from Unknown or Untrustworthy Sources
Make sure you only install apps from trusted sources (Like Play Store). That's because APK files can be easily compromised and a malicious code can be added to them. Therefore, installing an app from untrusted source is like inviting the hacker to invade your privacy and steal your data.
10. Not Restarting the Device
There's a lot of controversy on this topic. But personally, I think rebooting phone occasionally is a good idea. That is the reason why many phone companies have introduced a feature to schedule rebooting of the phone.
Restarting the phone clears up clutter from your phone memory, removes temporary files thus giving your device a fresh startup. You should reboot the device once every week or once in a fortnight.
11. Manual Cache Cleaning
Remember as discussed above, cache data is important for quick functioning of the app. Even if you delete the cache it will be again created once you use the app. Therefore, we should not clean cache often. However, if you are using it occasionally to clean leftover cached data from uninstalled apps or deleted media files, it is fine.
Habits That Put Your Android at Risk
1. Rooting
Rooting a device is not wrong but you should know why you are doing and what you're doing.
Smartphones come with certain restrictions to protect your device being attacked. Rooting a device will remove those restrictions and will make your phone vulnerable. Meaning if any malicious app tries to access your device you won't be notified and Android won't be able to protect you from being attacked.
2. Answering Texts from Unknown Contacts
When we receive a text message from a stranger the first thing we do is to reply and ask the sender who he is. There is nothing wrong in it, but if it is a spam text and you are responding to it. Hackers sitting on the other end will get to know they've got a valid number and a potential target.
3. Using Public Wi-Fi Networks
Most users keep their Wi-Fi enabled so that whenever there is a public Wi-Fi enabled they are automatically connected to it and can save mobile data. But doing so they forget that the information sent and received on open network is visible to those who have access to the network. Meaning if hackers have hijacked the network then they have access to all the information transmitted. Therefore, to stay safe avoid using public Wi-Fi or make sure you use Wi-Fi that is password protected. If you can't avoid temptation of using a Free Wi-Fi disable the Wi-Fi and use your mobile data network.
4. Clicking on Dangerous Links
Even after hearing a lot about phishing attacks smartphone users fall for them. The reason behind it is that spotting malicious URLs on phone network is not easy. Because the links are shortened thus, making it difficult to tell whether an address is legitimate or not. Therefore, to stay safe avoid clicking on a link received in a text message, even received from a known contact or a friend. Plus, if you receive an email or text asking you to click on a link and login to your account, never do it from your phone. Furthermore, avoid making any transaction that you are not sure of from your phone.
5. Infecting Your Computer Via Your Phone
If you connect an infected smartphone to your home or office computer you infect it as the infection will spread onto the device. Therefore, to avoid such situation you such have a habit of using a reliable antivirus program both on your phone and computer. Also, make sure that the security device is up to date. This will make detection of latest threats easy.
6. Assuming You Won't Be Attacked
If you think that Google is taking care of your phone security completely, then you are mistaken. Google can keep check on apps that you download from Play Store but for other things you need to be cautious. You need to face the challenge of taking out time and securing your phone.
If you understand the risk you need to take care before it's too late.
Hope by now you have understood what you are doing wrong and will pass on the information to others. People around you may be using their phone in wrong way for years. Now, that you have all the know how you can help them and be pro. So, what are you waiting for start using this tip and if we have missed out something do let us know.
We appreciate your feedback.
WhatsApp is the best thing since sliced bread for the big part of population who believe in chatting over talking. Not only does it help save money, but also the time and effort to stay connected. Although, WhatsApp does provide a lot of  amazing formatting features, it also has several unearthed surprises. Since Snapchat introduced Stories within the app, Facebook also followed the trail. Now, WhatsApp has too jumped the bandwagon of stories with WhatsApp Status.
WhatsApp Status is more than just simple texts and slogans. The new feature, allows users to put their photos and videos as status. However, the problem comes when you like a specific status and find no option to save it on your device. Thus, taking a screenshot seems like a fair deal. But, did you know there are better options? Well, we are going to suggest you two ways to save WhatsApp Status without taking a screenshot:
1. Through a third-party app
Download and install Status Saver for WhatsApp on your device.
Go to WhatsApp and view the status that you wish to download. It should help the status to load on your device.
Launch the Status Saver app.
You can see two options, Images and Videos. Tap the one depending on the type of status you've just viewed on WhatsApp.

The status is available on Status Saver app. Just tap on the download icon to save it locally on your device.

2. Through a file explorer:
If your phone doesn't have a file explorer app, download one from Google Play Store.
Launch the File Explorer app on your device.

Click on the three vertical dots and go to Settings.

Switch on the 'Show hidden files' option by sliding the switch.

Go back to your storage and tap on the WhatsApp folder.

Tap on Media and then .Statuses


There you can see all the statuses you've ever viewed on your device. Just move or copy the status you want to save offline from there to anywhere within the storage.

Saving a WhatsApp Status is actually a no brainer, if you're aware of the the tools and technique. The Status Saver application helps you in viewing the content within the app. However, you're allowed to download the same for later use. The app is a good choice if you don't want to download them and save the content within the app so that it is attainable. On the other hand, the file explorer method seems more convenient regardless the number of steps associated. It is always better to get the job done without installing any third-party application as it saves a lot of data and phone memory.
The Newspaper v8.5 wordpress theme is excellent for a news, newspaper, magazine, publishing or review site. It also supports videos from YouTube and features a rating system. So far, we have the theme integrated with bbPress Forum, BuddyPress, Buddy Press, and WooCommerce. It uses the best clean SEO practices, and on top of that, it's fast, simple, and easy to use. In addition, Newspaper supports responsive Google Ads and AdSense.
Newspaper v8.5 WordPress Theme Main Features:
Responsive Google AdSense:
Newspaper v8.5 wordpress theme supports responsive google adSense via our custom admin panel – the script loads a different google adsense spot for each screen size. Once it's loaded it doesn't modify it in order to be 100% compliant with Google adSense TOS.
Auto YouTube, Dailymotion and Vimeo thumb downloader:
Just paste a YouTube url and the site will automatically download the largest image available from the clip and it will set it as a featured image. Very easy to add videos to articles.
Unlimited Sidebars in Newspaper v8.5 WordPress Theme:
Each post, page, category can have its own sidebar. Also, all the author, search, tag, blog index templates have custom sidebars
Built in Translation Support:
Newspaper have built in translation support from theme admin panel. No more .po .mo files, you just get a form with all the strings from the theme and the corresponding translations. Multi Language site support via the free qTranslate plugin. All from wp-admin.
One Click Demo Install :
NO MORE .XML files, with just one click you have the demo data installed
Newspaper v8.5 other Features:
Custom bbpress styling + custom login system – you can now build a community with ease.
Custom auto scaling content blocks – a block changes its structure to work perfectly (in sidebar, full width or pages with sidebar)
Built in review system (stars, percents, points)
SEO: Schema with rich snippet microdata for articles and reviews
Google fonts – change the fonts easily from the Theme panel
Sticky navigation menu – with option to enable, disable or enable only on big screens (not on phones)
Newspaper v8.5 WordPress Theme Free Download
[sociallocker id="487″]
[mks_button size="medium" title="Demo " style="rounded" url="https://themeforest.net/item/newspaper/5489609″ target="_blank" bg_color="#000000″ txt_color="#FFFFFF" icon="" icon_type="" nofollow="1″]
[mks_button size="medium" title="Download " style="rounded" url="https://dl.freemiumworld.com" target="_blank" bg_color="#dda858″ txt_color="#FFFFFF" icon="" icon_type="" nofollow="1″]
[/sociallocker]